MCY Award 2018 Finalist
17/10/2018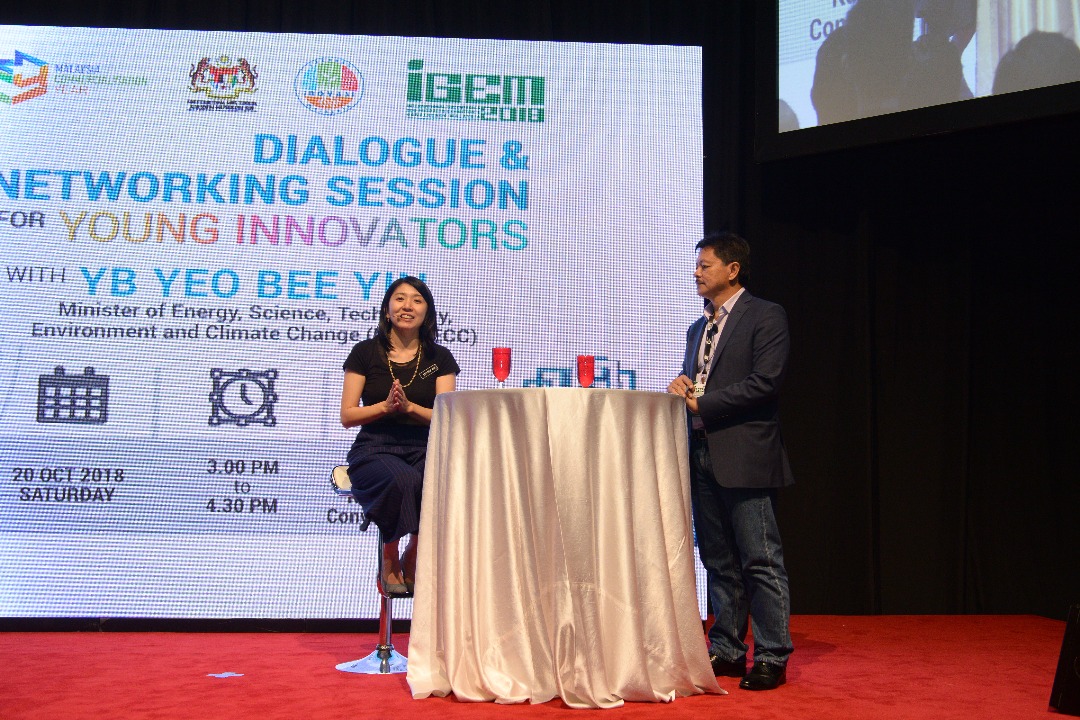 MCY@IGEM (17 – 20 Oktober 2018)
20/10/2018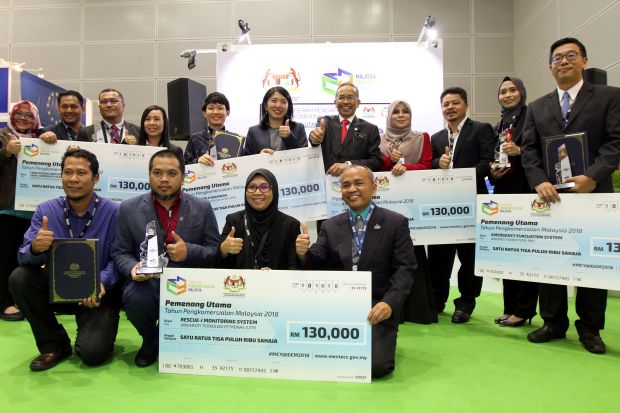 WITH innovative creations that range from skin whitening cream made from parts of the mangosteen tree, increasing the income of people in the B40 category during monsoon seasons to a quicker way to seek halal approval, Malaysia Commercialisation Year (MCY) 2018 pays tribute to 10 forward-thinking institutions for their efforts in five different categories.
MCY was introduced in 2016 to focus on commercialisation initiatives of local R&D products.
At this year's MCY, the main winners include Biopro Cosmeceutical Sdn Bhd (Technology Park Malaysia) for its product DERMAGs Skin Care in the Commercial Deal Award category. The product uses alpha-mangostin, a type of organic compound isolated from parts of the mangosteen tree to develop a whitening cream.The main Research Entrepreneurship Award winner is Universiti Putra Malaysia with its Versatile Graphene product, which uses green methods to extract graphene from graphite for use in glove and inkjet ink production and more.
The Social Entrepreneurship Award was won by Universiti Malaysia Sarawak for its Unimas Crab House which helps the B40 segment of society increase their income during monsoon seasons using an easy-to-monitor and controllable construction that also uses the mobile phone.
Anderes Fourdy Sdn Bhd (Technology Park Malaysia) won the Emerging Innovator Award with its own innovation, the Emergency Evacuation System that helps identify victims trapped inside buildings during emergency evacuations.
Last but not least, the Research Business and Partnership Award was swept up by Universiti Teknologi Petronas Malaysia for its Rescue-i Monitoring System – a digitally smart controlled system that was developed for rescuers to monitor their physiology during rescue operations.
The winners were announced by Malaysia Debt Ventures Berhad (MDV) CEO Mohd Nizam Mohd Nadzri who headed the assessment panel during the final assessment session, and the awards were presented by Energy, Science, Technology, Environment and Climate Change Minister Yeo Bee Yin, accompanied by Ministry secretary-general Datuk Seri Dr Azhar Haji Yahaya.
Far East Pyramid Sdn Bhd won consolation Commercial Deal Award with its Detachable Electrical Expansion Sockets – selected for helping consumers solve problems, its portability and diverse functions.
Taking the consolation Research Entrepreneurship Award is Universiti Teknologi Malaysia for QuikHalal, an app that founder Dr Mohd Iskandar Illyas Tan explained takes all of Jakim's standards and lists these schemes on the mobile phone, which allows for faster approval process.
In the Social Entrepreneurship Award category, consolation prize winner Conjunto Thirteen Sdn Bhd produced the Battery Pack C13 that generates electricity without using oil and gas.
Precision Agriculture Robotics Sdn Bhd took home the consolation award for the Emerging Innovator category, with its STRIX Nest Fully Autonomous Unmanned Aerial System and Ground Sensors which assists stakeholders collect agricultural data and aquaculture at a low cost.
The consolation award for the Research Business and Partnership Award went to Figs Direct Sdn Bhd and Malaysian Agriculture Research and Development Institute (Mardi) for their fig-based products that are in bioactive material and ideal for those who have diabetes and eczema or other skin-related problems, as well as consumers looking for Sunnah functional food.
The main winners in each category received RM130,000 worth of prizes including trophy and certificate while consolation prize winners receive prizes worth RM50,000 including trophy and certificate.
The awards were in appreciation of local talents who contribute to the country's economic growth, and to encourage interest in the commercialisation of national R&D products by giving recognition and incentives to the best products and technology.
MCY 2018 was organised by the Ministry of Energy, Science, Technology, Environment and Climate Change (Mestecc), which was held in conjunction with the International Greentech and Eco Products Exhibition held at Kuala Lumpur Convention Centre (Oct 17-20).
Source : TheStar